McNally Bharat Engineering Company Ltd. (MBE) is one of the leading Engineering Companies in India engaged in providing turnkey solutions in the areas of Power, Steel, Coal & Mining, Ports, Aluminium, Material Handling, Mineral Processing, Cement, Water, Oil & Gas and Infrastructure sectors such as Buildings & Townships, High Rises, Roads, Metro, Rail etc. Over 350 plants have been constructed on a turnkey basis by MBE till date. In 2011 we celebrated our Golden Anniversary year (1961 - 2011).
MBE stall at IMME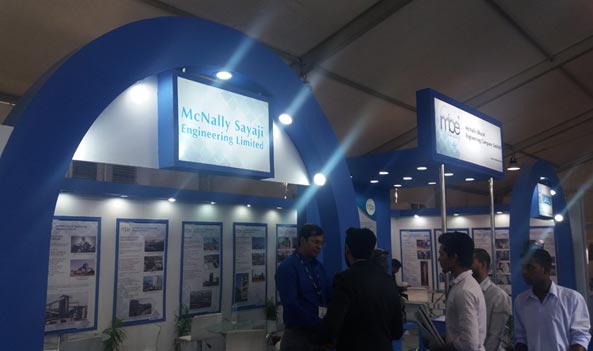 Training Center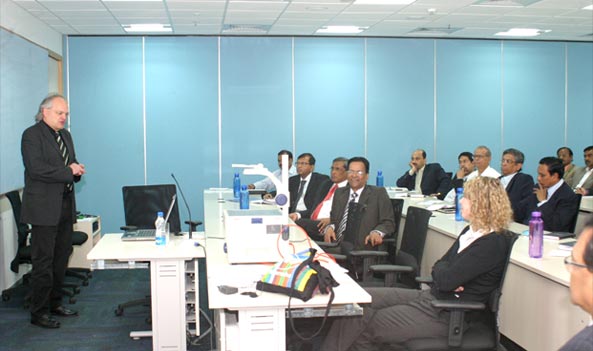 The Company, headquartered at Kolkata, is a part of the Williamson Magor Group. The EPC project activity of the company is managed through separate Business Divisions that assume responsibility for each activity from concept to commissioning. MBE has got ISO 9001:2008, ISO 14001: 2004 and OHSAS18001 certification. MBE has received numerous safety awards at different Project sites.
MBE manufactures a wide range of products required for its various projects through its subsidiary company McNally Sayaji Engineering Ltd. (MSEL), to whom it provides the requisite technology and design, if required. MSEL product range includes Crushers & Screens, Mobile Crushing and Screening Plants, Skid mounted Coal Sizers, Mills, pressure vessels, material handling equipment, steel plant equipment, process equipment like flotation cells, thickeners, slurry pumps etc. MSEL has five plants located at Kumardhubi, Asansol, Bengaluru and Vadodara.
MBE has introduced state-of-the-art technologies in India through technical tie-ups with some of the world's leading firms. Some of our associates include SOLIOS - France, Poltegor- Poland, Famac - Poland, TPE - Russia, DMT - Germany, Siemens Vai - France, KCI Cranes - Finland, CODCO - China, GRD Minproc - Australia, GeaMesso - Swiss, MCC (China), UralmashEngg. - Russia, MekhanobrChormet (Ukraine) etc.
In 2002, MBE acquired EWB Hungary, a global leader in ash & pneumatic handling systems. MBE through its subsidiary MBE Mineral Technologies Pte Ltd, Singapore has acquired MBE Coal & Mineral Technologies (I) Pvt Ltd., the Indian arm of the Coal & Mineral Technology division of KHD Humboldt Wedag, a global leader in coal and mineral processing.
In 2017 MBE acquired Vedica Sanjeevani Projects Pvt Ltd., which is engaged in the development of real estate & resorts.