MBE's mission is to provide customers with quality products and services that meet or exceed their expectations. The continuous improvement of quality is based on a Quality Management System that aims for total customer satisfaction where emphasis is given to all aspects of quality to handover a product to the customer that satisfies stated and implied requirements.
MBE Follows Concept of QM/QA/QC model in its activities.
The conceptual diagram for optimization of roles to deliver a product or service which focuses on meeting or exceeding customer expectations is shown below. QM (Quality Management) commences with "customer focus", provides confidence of meeting or exceeding customer expectations (Quality Assurance) and includes procedures to ensure established quality criteria are met (Quality Control).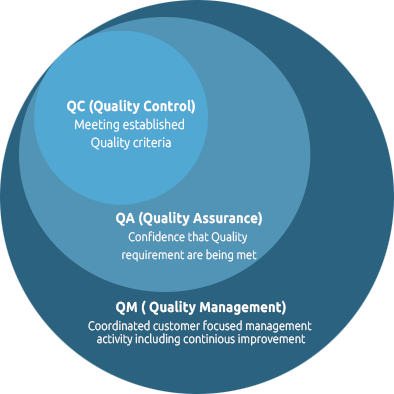 MBE is certified with various management system certifications such as ISO9001, ISO14001 & OSHAS 18001 . Most of the QA QC engineers are certified internal auditors for QMS. Establishment of Quality, HSE and Information Security Basic Policy, development of quality targets, internal audits, quality through performance data analysis, corrective actions, preventive actions, management reviews, monitoring customer satisfaction, product requirements and continuously improving the effectiveness of QMS.
A team of around fifty QA engineers are located at the head office & at different project sites to control and ensure QA and QC activities.
QA engineers are from various engineering disciplines like Civil, Mechanical, Electrical and Metallurgical.
QA engineers are qualified in various Non-Destructive Tests viz. RT, UT, MT, VT & PT according to ASNT/ISNT guidelines.
MBE has an in-house Non-Destructive Testing Laboratory at its Kolkata office. The laboratory follows guidelines of ISO/IEC 17025: 2005.
To cater to a large volume of inspection load within various locations of the country and abroad, globally reputed Third Party Inspection Agencies like BV, Lloyds, TUV & IRS are deployed to carry out inspection & testing on our behalf.
For destructive and non-destructive testing of materials, MBE takes assistance from NABL accredited external laboratories.
MBE is having a wide range of different types of measuring and testing equipment which are calibrated for maintaining National/International traceability.
QA engineers are conversant with various National & International codes & standards such as IS; BS; ASME; ASTM; AWS; ISO; EN; DIN etc. as per the requirements specified by the customers.
Inspection of shaft for Bucket wheel excavator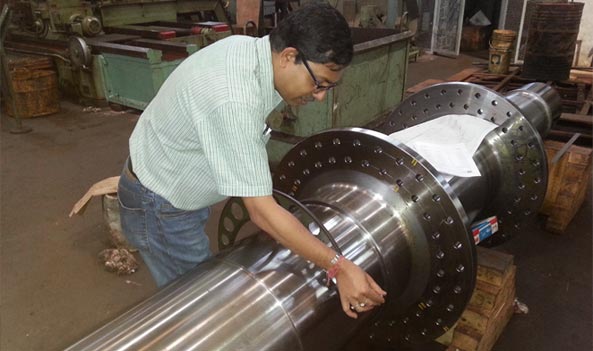 Inspection of split bearing with housing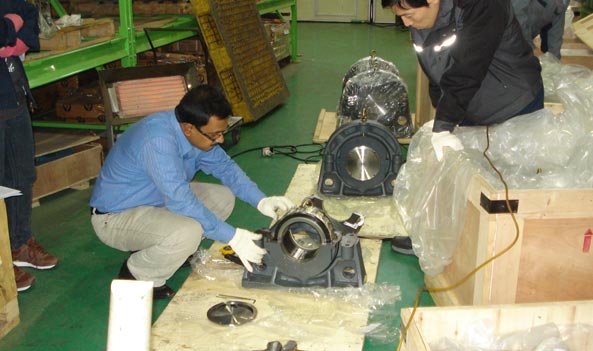 Projects Quality
Quality Policy
McNally Bharat Engineering Company Limited organizes all its quality related activities within the framework of a quality system, geared to provide complete satisfaction to all customers, both internal and external, through error free execution of supplies & services on time all times.
Our strategy is to -
Acquire and adopt new technologies.
Focus on processes and on measures of process performance.
Reduce and eventually eliminate all avoidable delays and wastes.
Augment knowledge and skill of people at all levels of the organization.
Enhance motivation and participation of all our people.
Improve communication and interaction within the organization and interested parties.
Emphasise on computerisation and automation.
Forge strategic alliances with our collaborators and partners.
Maintain a congenial work atmosphere.
Employee retention is one of our prime focuses.
Cash on effective use of measurements and analyses.
Promote innovations and improvements in all spheres.
Mr. Srinivash Singh
Managing Director
Product Quality (MSEL)
Quality Policy -
We shall consciously strive to upgrade our systems and technology so as to constantly improve our products and services to our customers.
Quality Objectives
We shall –
Upgrade our technology to improve our products and services.
Educate and train our employees to enhance the quality of our products.
Develop vendor base, meeting our delivery and quality stipulations.
Reduce wastage and non-value added operations.
Mr. Subir Chaki
Wholetime Director
Mimic board testing under progress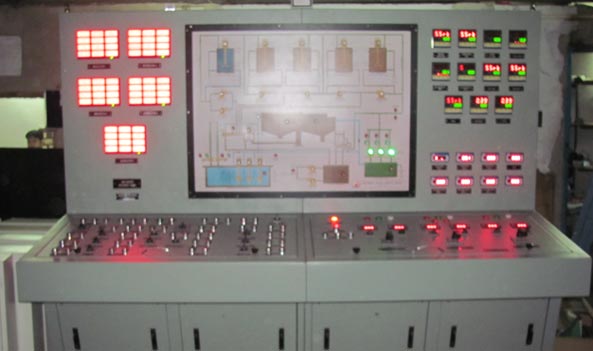 Paint thickness measurement