Over the years, MBE has gained unparalleled wealth of knowledge & expertise in construction activities comprising civil & structural work, mechanical erection & piping, electrical, instrumentation & automation work in various industrial sectors:
MBE has successfully executed a large number of construction projects in the following industries -
Thermal Power Plants
Steel Plants
Aluminium Plants
Non Ferrous Plants
Petroleum Refineries
Coal & Mining
Cement Plants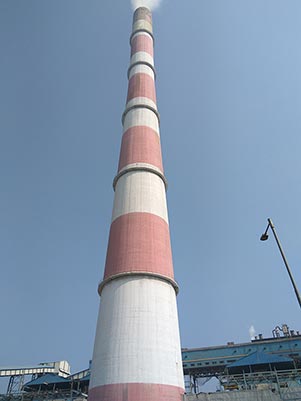 Chimney height 275 Mtrs, BOP Satpura
CIVIL & STRUCTURAL WORK CAPABILITY
POWER PLANTS : Main Plant, Balance of Plant, BTG foundation, Chimneys, Cooling Tower, Track Hopper, Wagon Tippler, Stacker Reclaimer, Conveyers, Sea & River Water Intake System, Cooling Water System including Treatment Plants, Ash, Silos, Ash Ponds, various buildings, roads, drains etc.
STEEL PLANTS : Civil works for Sinter plant, Blast Furnace, Rolling Mills, Coke Oven Battery, By products Plant, Long Distance Conveyor Systems, Silos.
CEMENT PLANT : Construction of complete cement plant on turnkey basis. COMMON ACROSS SECTORS : Deep excavation, rock excavation, Piling – driven & bored, marine piling, well foundation, soil / rock anchoring, Pre-stressing, Pre-casting, tunnel construction, diaphragm walls, elevated reservoirs, pre-engineered buildings, system formwork, site survey, soil investigation.
BPCL Mahul, CDU4, Civil structural works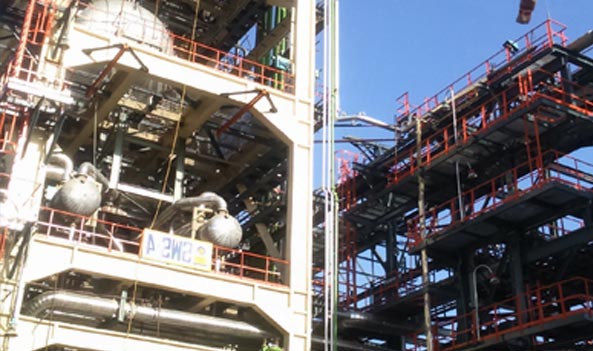 BPCL Mahul, Structural works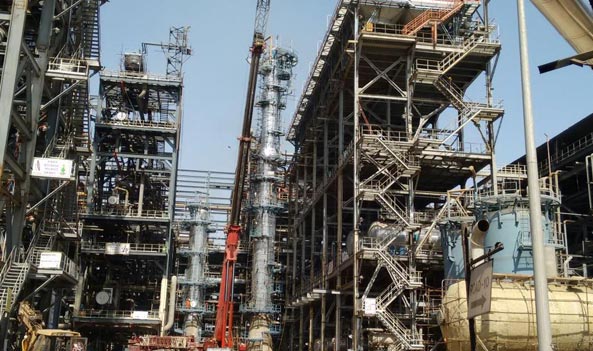 MECHANICAL ERECTION & PIPING WORK CAPABILITY
POWER PLANTS: Turbine Generator Erection, Boiler Erection – Pressure Parts, ESP & Air Heaters, Steel Stacks, TG Auxiliary Erection & Oil Piping, Technological Structures, Ducting, erection of Stacker Reclaimers, Wagon Tipplers & Conveyors etc.
STEEL PLANTS: Erection of Sinter Plant, Blast Furnace, Coke Oven Battery, By Products Plant, Rolling mills etc.
CEMENT PLANT: Supply and erection of major critical equipment like Pyro Processing Kilns, Raw Mills, Coal Mills, Cooler, Crusher, Stacker / Reclaimer etc as well as Clinker Grinding Mills.
MINING: Erection of Coal Washeries, Ore Beneficiation Plants, Pellet Plants.
HYDROCARBONS (Refineries, Petrochemicals, Fertilizers): High Pressure Piping, Columns, Pressure Vessels, Refinery Tank Farms, Cross Country Piping, Cryogenic Tanks, Vessels, Piping.

Offsite rack piping, Brahmaputra Refinery
ELECTRICAL INSTRUMENTATION & AUTOMATION CAPABILITY
ELECTRICAL : Indoor Substations (upto 33 KV), GIS Substations (upto 400 KV), Outdoor Substations (upto 750 KV), Switchyards (upto 400 KV), Overhead Transmission Lines, Transformers, HT & LT Switchgears, HT Bus Ducts, HT & LT Motors, DC Rectifiers & Capacitors, Plant Illumination Systems, Plant Earthing & Lighting, DG Set.
EQUIPMENT : Installation of Electricals for EOT Crane & Hoist, Stacker Reclaimer, Wagon Tippler & Loader, Paddle Feeder, Port Handling Equipment, Material Handling Equipment, Boiler, Turbine, Generator.
INSTRUMENTATION: Installation of PLC System, DCS System, Field Instruments – analog & digital, Communication System, Fire Alarm & Detection, Weighing System.