Engineering is the core strength of MBE and we consider engineering as one of the most important activity which ensures flawless execution of EPC projects as well as continuous development of the existing systems and equipment. The Engineering department is centralized to ensure proper utilization of the engineering manpower as well to enrich the vast knowledge and experience gathered over the years by sharing among designers with versatile perspectives. The engineering capability of MBE has become recognised due to following key factors:
Enriched in-house Engineering setup
R&D setup with Latest Software / Tools
Vast experience and knowledge pool for setting up large Plants across various Industries
Access to state-of-the-art technology through strategic alliance and collaboration
Closely associated with Reputed Design and R&D Organizations for critical analysis of developmental products/system
Design department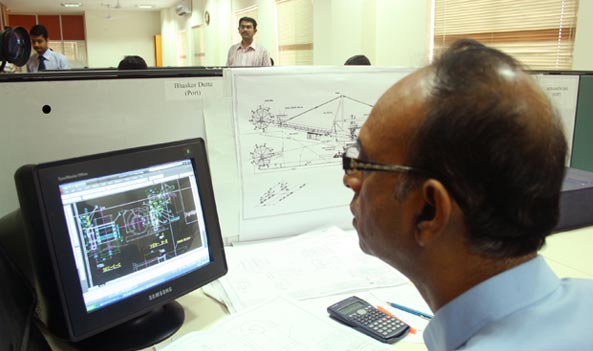 3D-model-stacker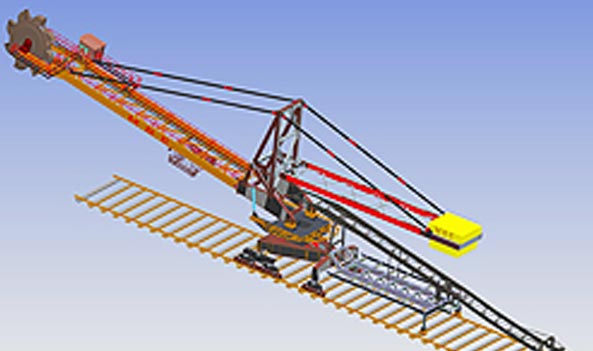 In-house Engineering and R&D Setup:
Our in-house engineering department is capable of carrying out both Basic & Detail Engineering of EPC projects starting from scratch. Sometimes, we even provide engineering support for developing the system parameters and criteria to satisfy the requirement of end users. Our Centralized engineering department has around 140 designers out of whom at least 50 are qualified graduate engineers from reputed Universities / Institutes of India. Engineering department consists of following disciplines:
Process & Mechanical
Piping & Utility
Electrical
Instrumentation & Automation
Civil
Structural
During Project execution, MBE carries out the following key engineering activities
PFD
System Description
Mass & Water Balance (as required)
Plant Layout
General Arrangement Drawings
Piping & Instrumentation Diagram
Equipment Selection & Sizing
BOM Generation
Detail Engineering
Control Logic Generation
Operation & Maintenance Manual
Material handling is our core strength and we have over a 100 material handling jobs executed with following facilities in India as well as in abroad -
Track hopper
Wagon Tippler & Side arm charger
Reclaim Hopper
Crushing & Screening System with various types of crushers and screens
Complete Conveying System with various types of conveyors indicated below -

Belt Conveyor
Pipe Conveyor
Roller Conveyor
Screw Conveyor
Air Slide Conveyor

Stacking & Reclaiming with various types of Stackers and Reclaimers
Complete Rapid Loading System for Rail and Road
MBE has made their presence felt greatly in Mineral Beneficiation Industries across the globe and the Engineering group is capable of providing complete solution starting from receiving ROM ore to tailing disposal, including -
Fine Crushing & Screening
Material Handling & Conveying
Storage and Reclaiming
Wet Grinding & Classification
Flotation / Leaching
Concentrate Thickening & Filtration
Tailing Thickening & Disposal
MBE has the capability of building a complete cement plant on EPC basis in joint partnership with technology suppliers. We have built 9000TPD "New Jamul Plant" for ACC, the only EPC project in Cement Industry of India. The entire plant, including material handling system, civil, structural, utility & electrical work were designed and detailed in-house. Our engineering capability in Cement Industries includes the following modules.
Limestone crushing system
Correctives crushing system
Raw material conveying system
Limestone & Correctives Storage system with application of various types of Yard equipment
Coal Handling System
Clinker handling & loading system
Entire Civil work for the plant including Silos & Hoppers, Pre heaters, Mill & Cooler buildings etc.
Entire Structural work for the plant including Storage sheds, Duct supports, Pipe & Cable racks etc.
Entire Electrical & Utility work required for the plant
Pneumatic Handling
MBE offers complete Pneumatic Conveying System from concept to commissioning for Cement, Ash, Process and Metallurgical plants for handling powder materials. Based on the application requirement the Pneumatic System comprises:
Pneumatic Air Slide;
Pneumatic Air Lift;
Transporter Vessels
Plug type Conveying
Vacuum Conveying
Storage Silos
Ash Handling
At the engineering stage following parameters are analyzed (by in-house developed software) to determine the optimum system -
Layout / Routing
Specific Air demand, System pressure;
Blower pressure
Power Requirement
MBE along with its subsidiary company – MBE EWB kft, Hungary, is one of the few companies in the world capable of providing all kinds of Ash handling technologies including:
Dense phase pressure system
Lean phase pressure system
Vacuum system
Hydraulic Ash removal
Mechanical Ash transport
Airslide + Airlift system
Silo technologies
Slurry & Liquid Handling
MBE has designed & installed slurry & liquid handling facilities in areas like Ash, Iron ore, Non-Ferrous Metals, Coal, Water etc.
Design Process includes among others:
Determining settling & critical velocity;
Process Flow Scheme;
Fluid handling & Distribution;
Selection of pipe size;
Selection & Sizing of pumping systems;
Preparation of complete BOQ;
Stress Analysis through software modeling
Coal Washery
MBE along with its subsidiary, MBE Coal & Minerals Technology India Ltd., are in a unique position to offer complete Coal washing solution for both coking & non-coking coal, starting from raw coal handling, washing to tailing disposal.
Some of the Salient feature of our technology: –
Separation,
Sorting,
Dewatering of washed coal
We are one of the few companies in the world to offer both Jigging and Heavy Media Technology for Coal washing.
Iron & Steel - Sinter Plant
MBE in consortium with TPE, Russia has executed a 400 m2 Sinter Plant with Dip-rail Circular Sinter Cooler at Vizag Steel Plant.
Critical equipment supplied:
Sinter Machine with Injection Furnace
Sinter Cooler
Mixing and Nodulising Units
Waste Gas Management System,
Electrostatic Precipitators
Gas Mixing Stations,
Sinter Storage
Crushing & Screening
Material Handling System
Electricals & Automation
Iron & Steel - By-Product Recovery Plant
MBE has set up a 50,000 m3 / hr Coke Oven Gas Cleaning Chemical By-Product Plant in collaboration with DMT, Germany. It involves mainly separation of By product Chemicals like Crude Tar, Naphthalene, Sulphur, Ammonium Sulphate etc. from Coke Oven Gas.
Critical equipment supplied include:
Primary Gas Cooler, Process Gas Cooler
Scrubbers for H2S, Napthalene, Ammonia
Stripper for Napthalene, Wash Oil,
Reactors for Catalytic Oven,
Condenser for Sulphur,
Process Gas Heaters
Gravel Filter
Deacidifier, Saturator
Chemical Pumps
Utility & Process Piping
MBE's Engineering Capability includes Design of Complete Piping and Utility Services for various integrated plants, such as:
Pollution Control (Dust Extraction/Dust Suppression) System
Compressed Air System
Air conditioning & Ventilation System
HP & LP Steam piping
Water System
Fuel Oil Handling System
Fire Fighting, Detection & Alarm System
Electrical, Instrumentation & Automation
Our activities in Electrical & Automation covers the entire gamut of plant engineering, including:
Single Line Diagram
Relay Setting Calculation
Transformer Sizing
Motor Selection
Cable Sizing
Switchboard Relay Protection
VFD Selection
Cable Routing Network
Fire Detection & Alarm System
Plant Communication
Illumination System
Earthing & Lighting Protection
HT Switchyard up to 132KV
HT Switchboard up to 33KV
HT Transformer up to 30MVA
HT Motor up to 8.8MW
HT Cable up to 33KV
LT PMCC, MCC, I-MCC & ASB
LT VVFD
LT Motors
LT Cabling
Illumination
FDA & Telecommunication
Earthing & Lightning Protection
Automation Configuration
DCS & PLC Panel design
Instrument Selection
Instrument Cabling
Data Communication between various PLCs with DCS
Civil & Structural Engineering
One of MBE's Major Strength Area lies in in-house Civil & Structural Design & Engineering capabilities -
General Arrangement Drawings
Assessment of the Load
Modelling of the Structures
Critical Analysis & Verification
Element / Component Design
BOQ Preparation
Fabrication Drawing
The successful running of almost all the Plants (over 350) is a testimony of MBE's Engineering Strength
Centre of Excellence
Since the inception of this Department comprising technically competent members selected from different Engineering disciplines have made significant advances in the field of Design Automation. The basic intention of Design Automation Projects is to achieve the following:-
Curtailment of Design / Drafting Time by 40-50%.
Reproducibility and uniformity of Design.
Lesser human intervention leading to lower Error Percentage.
3D visualization of Plant and Machinery helps reduce Errors due to fouling.
Capturing Engineering working Knowledge & Experience in the form of dedicated software applications developed in-house to stop erosion of Knowhow over the years.