EHV (Extra High Voltage) Substation business group serves the entire portfolio of Design, Engineering, Supply, Project Management, Erection, Testing, Commissioning and Maintenance of EHV Substation. The EHV Substation Business group is operated by a highly experienced team of professionals having rich experience in handling both green field and brown field jobs including Civil and Structural works.
The group is executing a number of 132kV / 220kV / 400kV substations in both AIS and GIS versions including Railway's feeding substation projects all over India of which many of them have already been working satisfactorily after successful commissioning. Many of the substations are equipped with state-of-the-art SCADA system which has been engineered and developed by MBE's in-house engineering team. MBE's capability includes,
Concept to commissioning of High Voltage Air Insulated Substations (AIS) up to 765 kV and Gas Insulated Substations (GIS) up to 765 kV and Hybrid Substations as per various National and International standards.
Successfully executed substation projects in India.
Major Customers PGCIL, WBSETCL and major Transmission and Distribution Utilities and many Private players.
Complete turnkey solutions provider for Balance of Plant & Industrial Electrification.
132 KV Substation, 4 nos. 132 KV line bay at different substation and 4 nos. 132 KV feeder bay at different TSS with associated PLCC work on Turnkey Basis for Ujanu Project.
Construction of 132/33 KV GIS Substation at Domkal, District-Murshidabad and 2 nos of 132 KV feeder bays at Nazirpur 132KV Substation.
Supply and service contract for Substation Package-S1 for (i) Extension of 400kV Salem Pooling Station, Extension of 400 kV Madhugiri Substation & Extension of 400 kV Nagapattinam Substation (AIS Portion) under Common Transmission System associated with Generation Projects in Nagapattinam/ Cuddalore Area, Tamil Nadu; (ii) Extension of 400 kV Madhugiri Substation, Extension of 400 kV Bidadi Substation (except for GIS Portion) & 2x63 MVAR, 420kV, 3-phase Shunt Reactors each at Madhugiri Substation and Narendra New (Kudgi) GIS Substation under Transmission System required for evacuation of power from Kudgi TPS of NTPC Ltd.; (iii) Extension of 400 kV Khammam Substation & Extension of 400 kV Nagarjuna Sagar Substation under System Strengthening in SR for import of power from ER and (iv) Extension of 400 kV Nellore Pooling Station under Transmission System for connectivity for NCC Power Projects Ltd.
2 nos. 132 KV Line Bays (AIS) each at Mankar 132 KV s/s and Durgapur 220 KV s/s at different TSS with associated PLCC work on Turnkey Basis for Panagarh Project.
Ideal Power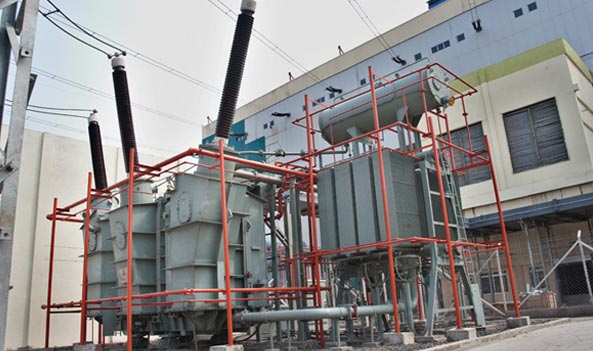 Switchyard